If you are an artist, designer, or photographer, then a portfolio website is perfect for you to showcase your talent. This way you will be able to show your work to the world. In this process, you need a WordPress portfolio theme.
A WordPress portfolio theme offers artists to show their art to the public by the custom website. For a better result, your portfolio theme must be eye-catching and attractive. There are so many portfolio themes available in the market.
So it is very tough to decide the best portfolio theme that shows your work in a very presentative way. So here in this guide, we take you through the 4 best responsive and beautiful WordPress portfolio themes.
What is a portfolio website?
A portfolio website is something someone made to showcase their work to clients or customers. It provides a view of the artist's work. Portfolio work can be anything like a sample of image, text or code. It depends on the artist's skill.
A portfolio website includes certain things like –
An attractive theme design to attract potential customers.
Customization option that lets you design the theme as you want.
The special effect of standing out your work
Responsive design so that users can visit your website from any device.
An attractive image so that the audience can take an in-depth view of your work.
This list of the 4 best responsive and beautiful WordPress portfolio themes contains these qualities. And the good thing about these themes is some of them are free portfolio themes.
Why choose WordPress for a portfolio website?
If you are starting, then nothing can be better than WordPress. WordPress is an easy to use tool. Here are some more reasons you should build your first portfolio website on WordPress.
Free tool
You can install WordPress for free. There is no charge to download WordPress. You have to download it to your device, and you are good to go.
WordPress theme
You can get a lot of WordPress resume themes in the market. You can use any of the themes so that your website can look good.
Easy process
WordPress is easy to set up. You can use it in your day-to-day life easier. You don't need to know coding to work in WordPress.
WordPress plugin
WordPress also has its plugin with it. If your device doesn't have some functions, the plugin will help you get those functions.
Support the web hosting
All the hosting plans are well fitted in WordPress. Even some web hosts are specially made for WordPress.
Astra
Astra is the most popular best portfolio theme out there. A lot of people give good reviews about Astra. Astra offers a wide range of templates. You can design your theme with layouts, fonts and images.
You will get the drag and drop function in Astra. You can use it in WordPress easily. Astra works well with Elementor, Brizy, Beaver Builder and Gutenberg.
Astra loads quickly and supports every device. Astra has everything that your portfolio website needs. If you want to know about the 4 best responsive & beautiful WordPress portfolio themes, then Astra is one of them.
Pros of Astra
Best portfolio theme in the market.
Lightweight and reliable theme.
Can work with a leading page builder.
Most SEO friendly
Fast load portfolio theme.
Cons of Astra
You can get confused by so many options.
Astra price
Astra is a free portfolio theme, but you can get a premium version also. It will cost you $47.
Mai Studio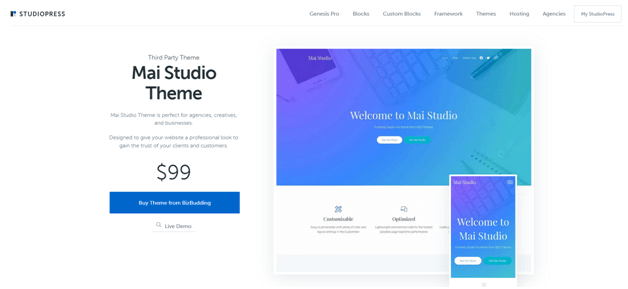 Mai studio works with Genesis Framework and WordPress with some great-looking themes. This very popular theme mostly works for studios and video marketers. They use this theme to give the best result to their audience.
Mai studio is considered as one of the well-balanced themes. The design of the theme is colorful. However, the theme has lacked edgy elements.
This is one of the best well-designed themes with a lot of white space. You will get a series of portfolio options in the Mai studio theme. This list of the 4 best responsive & beautiful WordPress portfolio themes Mai studio comes in second place.
Pros of Mai studio
This theme has a corporate-like look, attracting the audience more.
Fast loading theme.
It can be customized according to medium.
Cons of Mai studio
Doesn't make a first impression.
Little bit expensive.
Price of Mai studio
It will cost around $129.
Divi
The design of the Divi is similar to the Mai studio theme web freelancer portfolio. Divi is a neat and clean theme. It makes a good first impression on the audience. If you want to own the best responsive & beautiful WordPress portfolio theme, then Divi is one of the best choices.
Writers and developers can use it to show their portfolios. It can be customized a lot so that any creative field person can use it.
You can see a simple white space with font and design in the theme's demo. It has a big portfolio section where you can put your work.
Pros of Divi
It comes with many free themes that can be used as a portfolio.
Divi builder provides you drag and drop facility.
Light and clean design with full customization.
Good range of portfolio section with effects.
Cons of Divi
Anyone can use restrained design.
Price of Divi
It cost you $89 for a year. If you want lifetime access, it will cost you around $249.
Ultra
Ultra is one of the 4 best responsive and beautiful WordPress portfolio themes. It has a theme related to every niche. Ultra is much more colorful and vibrant than other famous portfolio themes like Divi and Mai studio.
People are considered ultra more energetic and bright for work. The design of ultra is very simple. And it is one of the most beautiful portfolio themes.
Ultra has full-screen elements that contain images, portfolios, graphics, and contact buttons at the bottom. Ultra gives all over good effects as a portfolio website.
Pros of ultra
Vibrate and bright design.
Load very quickly and work effortlessly.
You can add effects and other portfolio styles.
Cons of ultra
There are some bad reviews about ultra.
Price of ultra
It will cost you $59.
Conclusion
If you are a freelancer or marketer then having a portfolio website is a must. So here in this guide, we give you the top 4 best responsive and beautiful WordPress portfolio themes. You can use these themes for a good portfolio website.
Have any questions regarding these? Comment below & We'd love to answer them.