Love clean-looking websites; you just need a minimalist theme for your blog.
Minimalism is trending nowadays; people love minimalist things, and the same goes for the web world. Everyone is seeking a minimalist WordPress theme for their blog.
The minimalist theme contains a lot of white space with little text. The main motive of a minimalist theme is to provide a specific task to users in a very simple way, like signing up for a newsletter.
But with so many minimalist themes, you can be confused about which is best for your blog. That's why this blog will give you 10 minimalist WordPress blog themes that you want to make your blog look aesthetic.
Let's also talk about a minimalist theme and what you should look for in a minimalist theme.
What is the minimalist theme?
A minimalist theme is mainly made for user-focused purposes. It mainly focuses on the site content without a fancy design. So a clean-cut theme that doesn't have much design and a beautiful physical appearance refers to a minimalist theme.
In a minimalist theme, all the tabs and buttons look simple and basic. And this way minimalist theme is user-friendly. Users don't face problems while navigating something.
Mostly writers and creative field people use minimalist themes in their websites because they want users to focus on important things rather than website design. And a clutter-free website attracts users and don't distracts them.
1.  Pure
Among all the minimal WordPress themes, the Pure WordPress theme is for you if you're a design lover, with no second thought. The Pure wordpress theme is designed specifically for portfolios and blog posts. It's because of the modern yet simple design.
If we were to count the pros and cons, then definitely the pros make you choose it at first glance.
Highlights:
This one is SEO-friendly which means more visibility and more readers.
The theme is entirely responsive, opens up quickly, and is flexible.
The contents you get within the Pure theme: Icon boxes, portfolio posts, a gallery, promo texts, a testimonials section, a partners section, message boxes, progress bars, and custom buttons.
You can post your blogs and customise them in different styles: Grid, masonry, full width, single image, single slider, and more.
Last but not least, you get access to stylish typography, an About Page, and a 404 Error Page.
2.  NS Minimal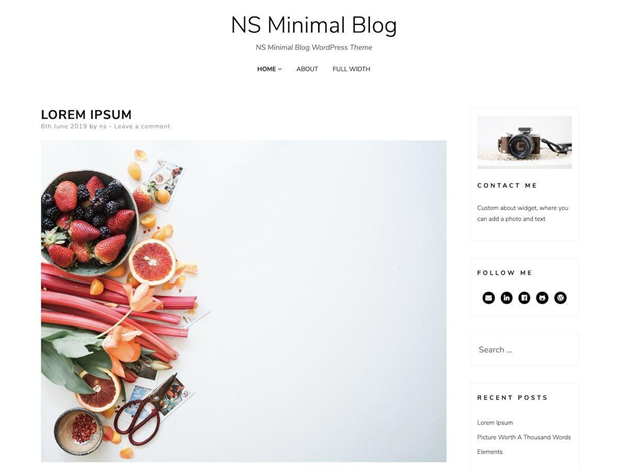 NS Minimal is one of the best minimal WordPress blog themes because of its distraction-free layout. It comes as a top recommendation when it comes to only blog posts. Let's see why!
Highlights:
The minimalist WordPress blog theme is RTL (right-to-left) text supportive making your website stand out in the market.
Another major factor to consider is that compatibility is all over the devices – mobile, tablet, and desktop.
Moreover, the theme is lightweight, helping it load quickly and directly connected to how much people will engage with your blogs.
It is also responsive, translation ready and built with the best SEO practices.
The structure goes this way: The Home Page, About Page, and Full-Width section.
In addition to The Home Page, there is a Contact Me section, social media handles section, a search bar and the recent posts section right below it, and an image with the heading.
3.  Gridly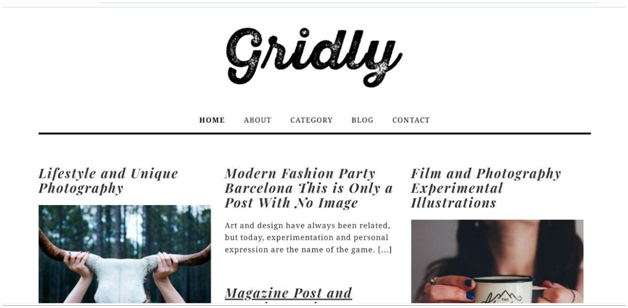 Do you want your readers to jump straight on your blog? Do you write in fashion, photography, or creative niches? Well, Gridly is for you if you want to give your website a look similar to that of the Pinterest grid, along with gorgeous images.
Highlights:
 Gridly's additional features allow you to run affiliate programs and Google Ads, making it different from the others.
Although the minimalist WordPress theme is more inclined towards blogging, a landing page or portfolio could still be created with the Beaver Page builder.
The additional features include quick loading, excellent SEO, and being highly responsive; it's compatible with all devices.
4. Simple Persona
As the name suggests, the minimalist WordPress blog theme is designed for personal blogs specifically – minimal & sober. For someone who wants to share their personal life experiences with the online world as a professional, Simple Persona is the best minimalist WordPress theme to choose.
Highlights:
 The aesthetics of a personal blog look as beautiful as simple & clean they are. The same is with Simple Persona.
The theme has a responsive layout and jaw-dropping design and is easily accessible by visitors. Simple Persona is translation ready as well.
Features include portfolio, featured content, sliders, events, testimonials, social links etc. To add, the bold typography and high-quality images are the stars.
 5.  Olsen Light
Olsen Light inclines to all the fashion and lifestyle blogs. All the fashion or lifestyle niche blogging websites look as good as the white space they got. Let's see what's different in Olsen Light.
Highlights:
 The theme comes up with different custom widgets, customised options, and social networking options.
The one extra feature different from others is Instagram integration.
Moreover, the theme is SEO-friendly and translation ready for your readers worldwide.
6.  Spacious
Spacious is one of the free minimalist wordpress blog themes in the multi-purpose category. Spacious is all open, whether you are a business, a blogger or just a freelancer wishing to create an impactful portfolio.
With Spacious, you get two-page templates, four blog display types, a complete set of thirteen widget areas, four-page layouts and much more within the theme. Well, it has a list of pros; let's check.
Highlights:
All the popular Page builders such as Elementor, Gutenberg, Beaver Builder, SiteOrigin, and Brizy integrate with the Spacious theme very well.
You can customise the site the way you want it to, using different colour options and typography.
If you want to sell your merch or a product on your site, no worries. WooCommerce is compatible with the theme.
Lastly, the theme loads within a second, is compatible with all the major browsers and RTL ready and is SEO optimised.
7.  Luna
Luna is the perfect choice for freelance bloggers to show their work via a fancy portfolio. The minimalist wordpress theme offers a wide range of colours, templates, Google fonts, and custom galleries.
This one too is highly responsive, SEO friendly, translation-ready, and meets all the WordPress thresholds.
Highlights:
Luna is highly compatible with the best of the free premium plugins.
It comes up with a custom list, grid widgets, background effects, and features such as a slideshow, custom blog layout, and style variations.
You can add widgets for social media sharing.
8.  Miniva
Miniva, the minimalist wordpress blog theme, works best with travel blogs. It has plenty of white space, focusing more on the content. Like others, the theme is responsive and compatible with all kinds of devices, RTL and translation ready, with custom widgets.
Highlights:
 WooCommerce integrates with Miniva nicely, making your blogs a better place to earn.
You can customise your site with the block editor styles and full-width templates.
9.  Casper
The ghost-style minimalist wordpress blog theme is, by default, for ghosts. Kidding! The theme fits more the personal, dark vibe. Well, this one is more minimalist than all the others we have seen till now.
Highlights:
 The ghost saves your effort with pre-included social media icons and search features for your readers' easy life.
Customizing the theme is easy, like a piece of cake. Also, it loads swiftly.
10. Writee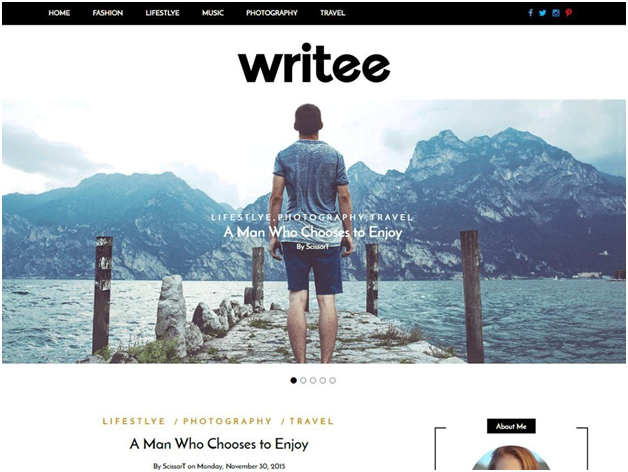 As the name suggests, Writee is of the lightest minimal blog themes available. With the Writee wordpress theme, you can switch between layouts such as boxed, no sidebar, and grid layout without any problem.
Moreover, you can customise your site by changing colours, and backgrounds and even uploading the logo of your choice! Let's see more such pros associated with the theme.
Highlights:
Get access to more than 600 Google fonts.
You can make full use of the breadcrumb navigation as well.
We saw the ten best minimalist wordpress blog themes, but what makes a minimalist theme special? What to look for while you're looking at thousands of minimalist themes apart from their clear appearance? We'll find the answer here.
What To Look For In A Minimalist Theme For A WordPress Website?
Your website's user experience is based on how quick and easy it is to scroll down and how better the user interface is. Let's take a glance at the four of what they are.
100% responsive and friendly with all kinds of devices.
Easy to give a new look by customising the fonts, colours, backgrounds, and layouts.
Page templates should be available to bring new ideas into the room.
Built with high-quality code and lightweight, consequently taking less loading time.
Why Use The Minimalist Theme For A WordPress Blog?
There are several reasons why you should go for a minimalist WordPress theme apart from the fact that they create a beautiful white space. Let's find them out.
They load your website swiftly, increasing the visitors' stay rate.
All the white space attracts the reader's attention to your content more.
The minimalist themes are also easy to maintain & customise.
Best Theme To Choose For Aesthetic Look: Conclusion
As we wrap up this article, we recommend choosing an SEO-friendly theme. Of course, a theme you like also goes with your niche well.
To conclude, all ten themes are SEO-optimized, easy to customise, and their loading time is negligible. Choose your favourite theme and show your readers your writing!