If you have a WordPress website, you always have to keep experimenting to attract online visitors. And with time, it becomes so important to build an online community.
To build a strong online community, you need a wordpress forum theme that is functional and compatible.
An online forum work on 2 things: an idea & a wordpress forum theme
You have to work on the first thing yourself, but this blog will short out the second thing for you. .
In this blog, you will get 7+ wordpress forum themes you need for your website. We make sure to add the latest and optimised themes.
So without delay, let's start!
PS — this list contains both free and premium themes. So you don't have to worry about the budget to set up an online forum on your wordpress website.
Why do you need a wordpress forum theme?
Online forums are popular nowadays, as they allow online conversations and messages. But it's not easy to manage thousands of messages. That's why managing an online forum is one of the toughest tasks.
But you can make it easy by using a WordPress forum theme. They come with inbuilt features, so you don't have to worry about technical stuff. With a forum theme, you can give all your time to build a strong community.
These themes come with a professional design, so users will not face a poor structure. All themes in this list are responsive, so mobile visitors will also love these.
So to keep up with online users, you need the best wordpress forum theme.
Things you need to pay attention to while choosing wordpress forum themes.
You need to keep some points in mind while choosing wordpress forum themes. Let's have a look:
SEO friendly: the forum theme you choose should be SEO friendly. An SEO-friendly theme will help you to rank higher on Google. This way, you can add SEO stuff like keywords and backlinks to the theme.
Responsive: your forum theme needs to be responsive. A responsive theme that supports every device. So it doesn't matter what device your visitors come in.
Customisation :  customisation is so important when it comes to any theme, and the same goes for forum themes. The forum theme needs to have a customised feature to build your forum the way you want.
Performance: performance is an important factor for the forum theme. Your theme can affect your site performance, so you have to choose a theme that doesn't have so many useless features. Choose a theme that has fewer features, and also features should meet your requirement.
Social media integration: this feature enables you to share your content on socials. Also, you can add your social media handle with this feature. This way, you can build up followers.
Design: a wordpress forum with an attractive design will catch more visitors. So always choose a well-designed forum theme. You have to focus on sliders and layouts.
Plugins support: with plugins, you can add different features and make the site more functional. and that's why your site needs to support plugins. So always choose wordpress forum themes that support plugins.
5 tips for building a strong forum website
Here's 4 tips you can follow to build a strong forum website 
Decide a goal
Without a goal; a wordpress forum is useless. So first, decide why you want to build an online community. What value are you going to provide? How will you engage with the community? 
Plan the forum
After deciding your goal, structure the forum as per your goal. You need to keep up with your audience while planning the forum. 
Select a theme
After the first 2 steps, now you need to choose a theme that matches your requirement. Choose a theme that easily blends with your website. A forum theme that is easy to handle, easy to answer, communicate, and create topics without any difficulty.
Choose a theme that needs less customization. 
Engage with the audience
To build an audience, you must communicate with them. Make the discussion alive with your comment. Put comments on other people's posts. Encourage people to comment more.
And with these 4 steps, you can build an online wordpress forum.
7+ wordpress forum themes to consider
HelpGuru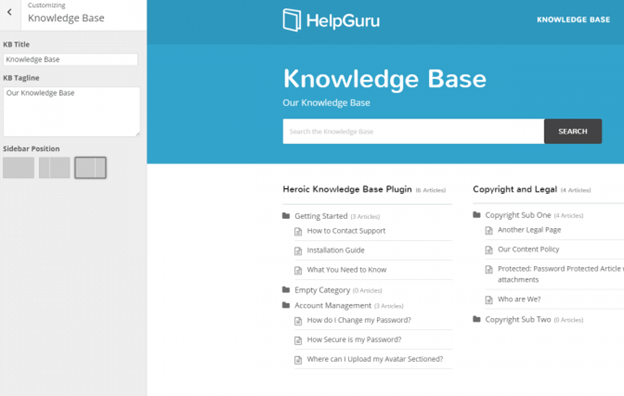 If you are seeking wordpress forum themes, Helpguru is the thing you need in your life. You can create different types of forums with HelpGuru. The good thing about this forum theme is its well-optimized, and that makes it user-friendly.
Mobile users can use it effectively, and an AJAX feature improves the search experience. It improves your Google ranking as well with so many amazing features.
You can live customise the theme and also preview it at the same time. In Helpguru, you will get three widgets to organise content, categories, and author sections. It is one of the best bbPress plugin themes.
Feature
bbPress plugin
Drag and drop builder
Highly optimize
Search engine ready
24/7 support
2. Disputo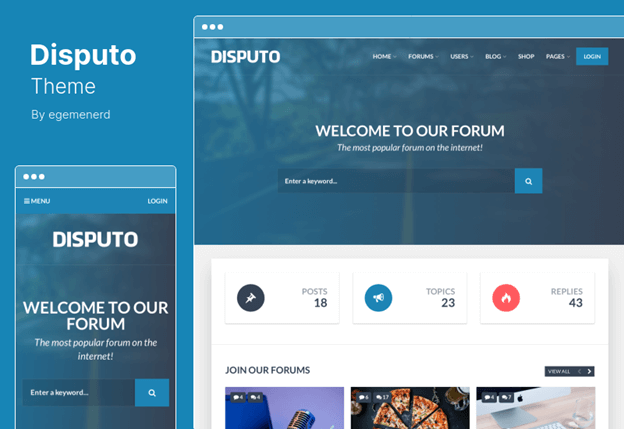 Love minimalist theme, Disputo can be the right choice for you!
Disputo is the best choice for corporate forums and agencies. It comes with drag and drop builder so you can live customise your wordpress forum. It allows you to watch the website with a preview option instantly.
You can install the WooCommerce plugin with this theme and add some of your stuff as paid. You will also get some demos, and with the help of these demos, you can launch your website in just a few minutes.
Disputo supports things like private messaging, live search, and YouTube TV. You can choose the forum color with unlimited opinions. 
Features
Comes with 12 custom widgets
Has customised options
Instant demo option
Seo-friendly
WPML and RTL scripts
3. ForumPress
ForumPress is specially made for a wordpress forum website. You can create an amazing forum website in a few minutes using ForumPress. You can manage different user profiles and multiple forums altogether.
Users will get a live search option that makes their lives easy. It will also help you to grow your audience. You can create different group discussions. Also, ForumPress allows you to manage conversations and messaging with ease.
You will find so many options for templates with different fonts and colours. The theme is highly optimised and super fast.
Features
Mobile friendly
Live search option
Elegant design
Easily manageable
4. Social Learner
The Social Learner is one of the multifunctional wordpress theme. The theme is mostly made for education-based websites. It allows you to integrate Sensei and LearnDash into your forum. And with the help of these, you can build a community-based education site.
It's super easy to use because you can adjust things like colour, fonts, widgets, and logos. You will get an admin penal where you can control the theme.
You can engage with the community with videos, discussion, and messaging. You can also use other interactions like posting your achievement.
Features
WooCommerce ready
Live notification option
Comes with bbPress and BuddyPress
Multiple options for community building
Responsive
5. WildCommunity
Looking for the best wordpress forum theme for community building? WildCommunity can be the perfect choice for you. It's a very easy-to-use theme; even a beginner can use it. You can manage your community well with BuddyPress and bbPress plugins.
You can control the theme with the admin panel and make your website as per your choice. You can easily set up your website with a demo installer. Then you can customize it by using Theme Customization API.
You can install different plugins like WPML, WooCommerce, and AddThis plugins. You will also get a live chat option.
Features 
SEO optimise
Customize option available
Support different plugins like WPML, Contact Form 7, and AddThis plugins
Have Feature four frontpage designs
Responsive layouts
6. Woffice
The Woffice is a powerful wordpress forum to build an online community. This theme is retina-ready and responsive for every device. So mobile users can also use it effortlessly.
Woffice theme also can boost your google ranking as it is designed with HTML5 and CSS3. It has unlimited colours to choose from. Woffice comes with 20+ built-in extensions which make it the perfect wordpress forum theme.
You can make a strong bond with your community by using BuddyPress ( integrates with Woffice ). This is the best free forum theme for wordpress to choose from in the list.
Features
One click demo installer is available
Separate member dashboard
Fully customize
Retina-ready
WooCommerce compatible
 7. OneSocial
OneSocial is one of the clean and minimalist forum themes. This theme is perfect for you if you want to build an online forum. You can reach a bigger audience just by using this amazing forum theme.
The theme's main focus is that it's simple and easy to use. The special features of this theme enable your site to transfer to your preferred language. You will just need 2 minutes to design your site with a demo site and one-click installer.
If you want to offer any paid service, you can install the WooCommerce plugin in it. You can grow your community with ease and build your business with OneSocial
Features
Live notification
Translation available
bbPress and BuddyPress plugin integration
SEO-friendly
8. ForumEngine
ForumEngine is one of the best wordpress forum themes if you are looking for a professional-looking website. It can make you stand out in the crowd because of its many amazing features.
To manage the site, you will get an admin panel. With the help of the admin panel, you can control the site easily. You will get a live notification feature making the conversation with your audience easy.
It easily loads in every device and makes the process seamless. You can translate your site into any language with the WPML plugin.
Features
Unlimited colours to choose
Schema and Yoast plugins
Admin panel available
Translation-ready
9. Creativo
Creativo is an amazing theme to look for in this list of wordpress forum themes. The retina-ready feature of it makes site images look sharp and clear with any pixelates. You can create amazing pages just by dragging and dropping with the help of the WPBakery plugin.
You can easily use this theme as you don't need any coding skills to set it up. It allows you to chat with users with a live chat function. You can also make money by using the WooCommerce plugin.
It comes with 3 layouts: Boxed, Wide, and Extra Wide. You can choose this theme to easily talk and message your audience.
Features
Live chat option
Fully responsive
Drag and drop function
WooCommerce integration
How to manage a forum website?
Building an online community is not an easy task. You have to stay active and engaged with your community. With that, you have to avoid some actions.
Here are some tips to avoid any type of problem while building a strong community.
You have to remove spam from time to time. If you don't clear your spam folder, it can cause SEO issues that can lead your website to google penalties
The online world is full of trolling but if you are running a forum website trolling is not good for you. You have to build healthy relationships with your audience.
As you are the admin so, make sure to discuss interesting topics. Always bring something that interests the audience. Don't be irrelevant, and make your community happy with a healthy conversation.
In the end,
So with this, the write-up gets completed. You have read about some best wordpress forum themes. You can choose any theme as they all are easy to use and has amazing features.
You can choose the best one as per your requirement and choices. All have easy interfaces with good design.