"The loftier the building, The deeper must the foundation be laid"
The same goes while you're stabilizing your digital business. Building a strong foundation for your digital business requires knowledge of different fundamentals of digital marketing to exploit different marketing aspects for best growth & customer experience.
What's Digital Marketing?
How Digital Marketing Works? Digital Marketing is a promotional method for businesses/brands done using the use of the internet and digital communications methods which includes Social Media, Email, Web-based Advertising & Mobile Apps etc.
Importance of Digital Marketing?
You must be aware of where the eyeballs of people are going, if you start a newspaper company then barely someone would buy it and after 50 years we are going to get newspapers in museums.
The world is growing and moving towards making complex things easy by making them digitalized and that's where even the form of marketing (digital marketing) lies & you'll surely get more growth while marketing your products and services online rather than just doing an offline business
Digital Marketing has the potential to target a very broad area (almost everywhere) which can give you 100 times more growth.
That's why you must at least be aware of these fundamentals of digital marketing which are clearly mentioned below.
1. Search Engine Optimization (SEO)
What is SEO? SEO stands for Search Engine Optimization which is a process of website & content optimization to make it eligible to rank higher on google searches. It is the first step or you can say fundamentals of digital marketing to start with.
The difference between organic traffic (SEO) & inorganic traffic (Advertising) is that you need to pay to get that rank and gain traffic/sales.
How Does SEO Work?
Let's take an example, If someone is looking for "best furniture designs or architect design" and If you wrote an article about "best furniture or architect designs" & optimized it well and google likes it then it can rank high on that search keyword & you can get organic traffic through it. Its basics are,
On-Page SEO: On-Page Seo (as well as known as "On-Site SEO") is a practical activity that gets applied to the webpage content for better rankings. On-Page SEO practices include optimization of content, title tags & internal linkings.
Off-Page SEO: On-Page SEO can't make up to the rankings alone.
Even if Google & Users like your content and have a great UX but Off-Page SEO is crucially important as well.
Off-Page SEO helps Google to identify valuable links for your blogs from other blogs which depict Google that your content is valuable enough and people are loving sharing it and you're getting backlinks.
White Hat SEO: White hat SEO is an SEO technique to get higher rankings but under the rules & expectations of the Search Engine ethically.
Black Hat SEO: Black hat SEO is a technique while you use unethical strategies to manipulate the search engine & gain higher rankings.
Importance of SEO :
The first ranking article on any search engine takes over 71% of the traffic so if your article is the first one ranking or among the ones who are ranking in the top 5-10 article's so it brings more visibility along with traffic & sales for your business.
2. Social Media Marketing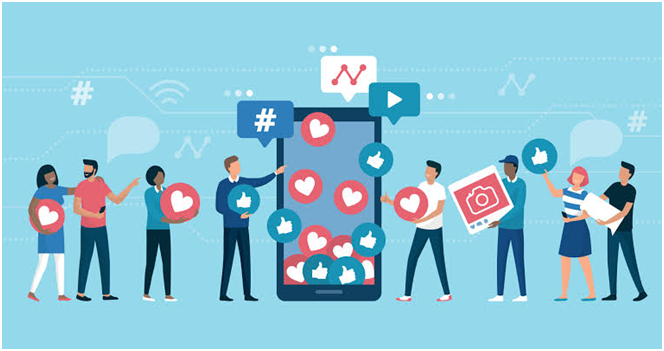 What is Social Media Marketing? Social media marketing is the way through which you can market your business/brand through social media like Instagram, Linkedin, Twitter etc…
To market your business on social media, You need to create content around your business/brand niche that resonates with your audience and people would like to engage with it bringing more engagement & more growth for your business/brand leading to more sales for your product/service or just awareness for your brand through social media.
It is the main & basic fundamentals of digital marketing because you can grow online without funnels, affiliate marketing but without social media marketing, it's barely possible!
How Does Social Media Marketing Work?
You use social media platforms and strategies for certain platforms to help you get more engagement on your post if the response from your audience is pretty impressive so it leads to more reach as the platform pushes it further to new users increasing awareness of your business/brand.
Importance of Social Media Marketing :
Social media marketing is important for every business as it can change your whole business game and help you get more recognition and sales of your product/service.
3. Paid Advertising
It is also known as Pay-per-click is a promotional strategy which individuals or businesses can use to drive traffic to a website.
Paid advertising is a great strategy to bring leads, sales & awareness faster rather than organic traffic.
How Does Paid Advertising Work?
To run paid ads, An advertiser runs an ad and needs to pay a publisher when the ad is clicked.
You can run ad's like social media ads, banner ads or google search ads and a few more publishing platforms.
Importance of Paid Advertising :
Suppose, You're having a sale time or an event of your business and you don't have that much following or authority for your business to get the best output for that event then Paid Advertising comes as a saviour so that you can run ads for that event which reaches to as much as people you can with your ad budget and get best awareness for your event.
4. Content Marketing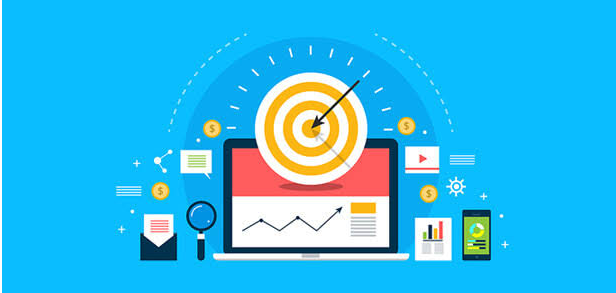 What is Content Marketing? Content marketing is basically a content strategy where you need to create content that resonates with the audience and is relevant to your business/brand category which makes people engage with it helping you to retain them as an audience.
Content can be in a text form (the one you're reading right now), video, audio or image.
How Do Content Marketing Work?
Content marketing can help your business to attract leads & bring more awareness through your content which leads to a sale of your product/service.
You need to create the right content at different stages of the sales cycle so that you can get the best output while marketing your product/service to your customer.
Importance of Content Marketing :
According to research, People consume 5-7 pieces of content before talking to your company's sales representative and businesses with content marketing get 30% more growth rate than other businesses.
5. Funnels
In the digital world, the funnel is the journey of a customer from just being aware of your business, goods or services and ending up purchasing that particular thing.
It can be defined by its AIDA formula which is, Awareness -> Interest -> Desire -> Action!
Well, Awareness is where they know about your product then interest is where you make them attracted. Finally, they get the desire or those guts to buy your product and end up buying it!
How does funnel work?
You might have seen many people launch their affordable products and make a landing page of that product in which you fill your email and other information after that they'll give you the affordable product but it's not till here.
After giving the product they might send you some persuasive emails (as they have taken your email) & try making you, even more, attracted even to their other products and you might end up buying their other products. This is the 5th fundamentals of digital marketing
Importance of funnels?
If you directly start pitching anyone then there is a chance of just 1% of the people getting pitched and buying your products but when it comes to funnels, it specifies who is your customer and even identifies what type of product you have to pitch and to whom.
6. Email Marketing
I'm 110% sure that you know what email is? Well, Email is one of the most essential parts of our life, even an essential part of the fundamentals of digital marketing in almost doing anything online! & that's where email marketing jumps in.
The question is, What is Email Marketing? Basically, email marketing is a form of marketing in which companies and individuals send you emails with a persuasive copy to attract you and make you buy their goods & services or get some visitors.
How does email marketing work?
I hope you must have seen that in many websites there is an option to either subscribe to their newsletter or they might ask your email in terms of giving anything free or paid product, goods or services etc to you as a lead magnet.
Now, after you have filled up your information you'll notice that you are getting some emails from the particular company or individual you have signed up for.
They basically collect your emails and send different types of mail to attract you as a visitor or even a sale.
Importance of email marketing
I've heard many people saying that, "oh common it's a time of social media who uses emails these days"
But that's totally wrong, more than 100k emails are sent every single minute on this whole planet!
Email marketing is still 40 times more effective than social media because most people use social media when they are free but emails are widely used by people when they are at work which makes people more conscious and they even might buy your product through emails.
Remember: 1 Active Email Lead = 100 Social Media Followers!
7. Audio Marketing
Audio marketing basically refers to an audio form of content or output which comes as podcasts, podcast ads, voice searches, alexa skills.
Imagine, You're listening to lo-fi songs at midnight and suddenly, Spotify ads just pricked you in your ear disturbing your vibes where an actor is marketing his upcoming movie but through podcast ads, He just increased awareness of his upcoming movie which you might watch as you're aware of it now.
How Does Audio Marketing Work?
There are many ways through which you can use audio marketing for your business or brand.
You can either run ads on podcasts, put out audio content for more growth or get more awareness through voice search.
Importance of Audio Marketing :
Audio marketing has been running for decades from the date radio lies as a traditional marketing way where a business's run radio ads and those people who are listening to you live to get to listen to your message building awareness.
It just puts out your message to new people who haven't heard you before so it could really help you stimulate up your business growth.
8. Influencer Marketing
Influencer marketing is a kind of social media marketing when a person put out it's thought and builds a following on social media (Most Probably)
That's what's called being Influencer and Influencer marketing depicts when you market a product/service through their word of mouth on their social accounts and pay them for doing that.
This helps in more visibility because of the large following of that certain influencer and this even leads to transactions taking place as the people trust the influencer and admire their thoughts.
How Do Influencer Marketing Work?
The business/brand basically pays that influencer money to market their product or service on their socials and bring in more customers and awareness for them.
Importance of influencer marketing :
Influencer marketing is just like paid advertising as it brings faster results if you don't have enough authority although you don't have the targeting in your hands as influencers have different types of followers from different fields but still influencer marketing works well because of trust.
9. Affiliate Marketing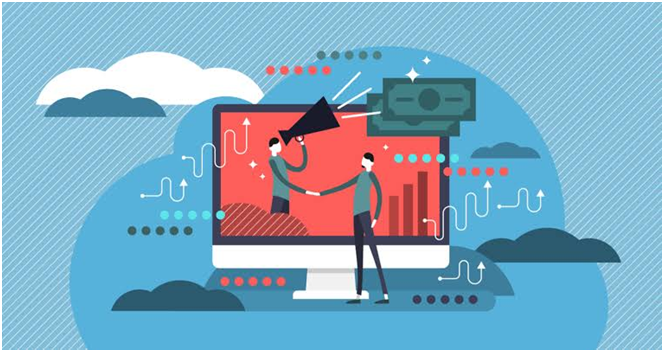 Affiliate Marketing is basically promoting other products or services from a specific affiliate trackable link in which you get a commission of a few percent of the price of that specific product you have sold!
How do Affiliate Marketing work?
You might have seen many people suggesting you or their audience a few products to buy from a link that they have given on insta stories, emails, videos, etc & when you purchase that product, they get a sale!
It is done by two ways,
Organic Promotion: It's Done In Social Media For FREE
Well, It could be promoted from organic methods (free methods) by creating YouTube videos, consulting someone, putting in stories, etc.
Paid Promotion: It's even done in social media by paying
It is done by running ads campaign on social media directly or indirectly(through a funnel)
Importance of Affiliate Marketing
This is even one of the most important fundamentals of digital marketing because it creates a win-win situation for the company and even the person who is doing affiliate marketing.
On one hand, the company's product is even getting sold and on the other hand, the guy promoting the product is even getting the commission.
FaQs
Are there only 9 Fundamentals of digital marketing?
No, these are the basics of digital marketing, there are even more sectors but they are not widely used enough.
Can an offline business have digital access and growth?
Yes! Not every offline business but almost 95% of them can have digital access and can grow there! The first step is to create a social media handle which is even the main fundamentals of digital marketing.
What is the heart of digital marketing?
Content marketing is the heart of digital marketing as this is the one who keeps creating awareness for your business or brand
How do SEO, SMM & SEM differ?
SEO means optimizing your site to get traffic.
SMM means that you're marketing your business on social media with the help of content marketing.
SEM means to get traffic & visibility through organic & paid searches
Conclusion
We've let you know the basic fundamentals of digital marketing to help you get started in the online field to boost your business or brand and get more visibility because you can reach 10x more people in online business rather than while you're running an offline business.