If you have a WordPress website, then speeding up your website is a tough task. If you want to improve the page load time, then a WordPress cache plugin can help you. Less load time of the website has a good impact on conversion rate and Google page ranking.
You have to take the best WordPress cache plugin to speed up your website. If you are searching for a plugin to speed up your website, then WP Rocket is the name you will hear in the market. It is one of the best plugins that results with very little effort.
But still, you are in confusion that WP Rocket is the right plugin for your website. We will give you an answer in this guide. Here we are going to tell everything about WP Rocket.
WP Rocket is a cache plugin that is specially made for WordPress websites. It was launched in 2013 to solve the problem of slow-loading websites. Using the right plugin can help websites speed up and improve page load time.
WP Rocket is considered one of the best WordPress cache plugins in the market. People like its easy-to-use interface and user-friendly setup. WP Rocket established its name a few years ago. Now people are liking WP Rocket service.
Now over 900000 websites use WP Rocket as a cache plugin. It is the best cache plugin to increase the loading speed of websites.
How to set up the WP Rocket plugin on your website?
Here are a few easy steps to set up the WP Rocket plugin on the WordPress website.
Download and activate the plugin
Firstly you have to install the WP Rocket plugin, and then you have to upload the plugin on the website manually.
Then go for wp-admin > plugins > add new > upload and tap on the activate.
Now, WP Rocket gets activated on your site, and it will enable caching of the website.
2. Configure File Optimization
Now go to the wp-admin > settings > WP Rocket and tap on the file optimization.
You can minify every file type here, like HTML, CSS, etc.
Now you have to change all the given options in WP Rocket.
Minify HTML
Minify CSS files.
Combine CSS files.
Minify JavaScript files
Safe mode for jQuery.
After making these changes click on the save change button.
Minifying and combining the files will help to speed up the site.
WP Rocket features?
Here we will talk about WP Rocket features that make it worth using.
1. Cache Exclusion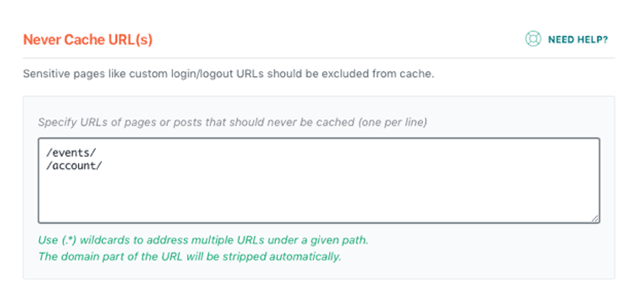 WP Rocket comes with the advanced features of caching. It has a very easy-to-use setting for caching rules. This will make it very easy to use plugins that you want to use on your website.
Sometimes your caching plugin will work properly, but sometimes you will face that your site is not working properly. So in that time, you can use advanced caching rules so that your site is not being cached. If you want to go for a WordPress speed plugin, purchase WP Rocket.
2. Cache preloading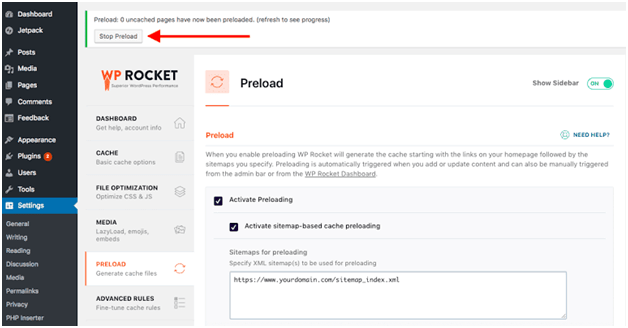 If someone visits your website page, you have to wait for the cache to build. The advantage of cache preloading is your page cache gets built even if that particular page didn't get visited.
Cache preloading helps the website to increase loading speed. The best part about WP Rocket is you can do cache preloading just with one click. You can either use the clear cache feature or use cache preloading.
3. Database Optimization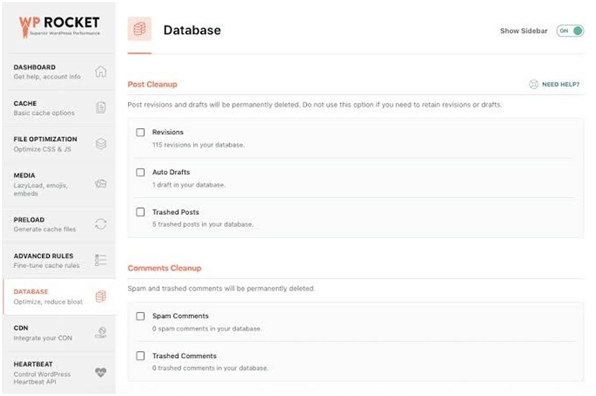 By using WP Rocket, you can easily clear your database. After many times your database is filled up with many useless fields. There are a ton of things that you don't need. So you can do database optimization in WP Rocket to get rid of those useless files. WP Rocket is a database optimization plugin.
It is a very easy process to do database optimization. You have to scroll the page and click on database optimization. But if you are running a database optimization plugin, you also have to keep the backing up of the database.
4. File Optimization
You can also optimize your file by using a WP Rocket. You can optimize your CSS and javascript files in the file optimization section. WP Racket checks all the boxes while optimizing the file.
It does minify HTML
Minifying HTML helps to remove whitepaper and comments that certainly reduce the page's load time.
2. Combine Google font files
It helps in reducing HTTP requests.
3. Remove query settings.
Apart from the above, you can also use WP Rocket to minify CSS and javascript.
It offers three plans. You can select a plan according to your budget.
In this plan, you will get one year of support and update for one website. You can get this plan after spending $49/year.
This plan will give you one year of support and update for three websites. You can get this plan while paying $99/year.
You will get updates for unlimited websites and one year of support in this plan. It will cost you $249/year.
Pros and cons of WP Rocket?
Pros of WP Rocket
WP Rocket is very easy to set up. You have to buy and install the WP Rocket and then activate it on your website.
It will improve your site speed.
WP Rocket optimizes around 618,000+ websites.
It will take 3 minutes to install and set up the WP Rocket.
Cons of WP Rocket
It is very costly. You have to pay $49 just for one website support. There are so many free plugins available in the market that are completely free.
Conclusion
Here we discuss WP Rocket. However, WP Rocket is an easy to use plugin. But it does improve your site page speed. There are so many other WordPress cache plugins available in the market; some are free, but if you want the best solution, then use WP Rocket.
You can use WP Rocket if you have less technical knowledge. You have to activate WP Rocket on your website; you will automatically see improvement in loading time.
WP Rocket also comes with many video guides and documents that will give you knowledge about page load time. So if you are looking for a WordPress speed plugin, go for WP Rocket.
FAQs
How can we say WP Rocket is the best WordPress cache plugin?
WP Rocket can improve your page speed. You don't need to know how to code while using a WP Rocket. It will help your website in conversion and speed up.
What is the work of WP Rocket?
WP Rocket is a performance and caching optimization plugin that you can use to speed up your website. You can improve your site performance with the help of WP Rocket.
Can I get WP Rocket for free?
No, it is a paid plugin. You have to spend $49 to get a WP Rocket. But it comes with a money-back guarantee.