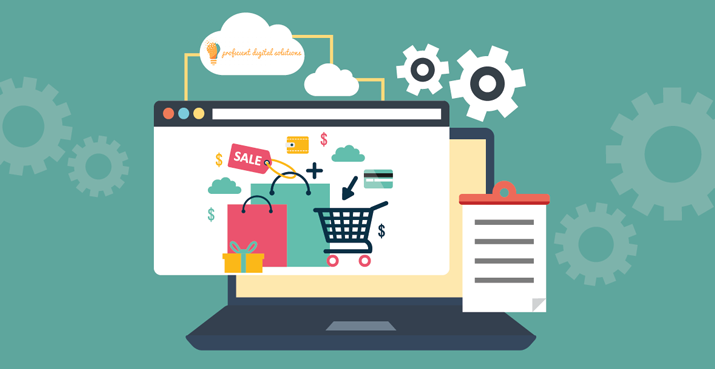 How Much Does it Cost to Develop an eCommerce Website?
An e-commerce site is a platform that enables businesses to sell their products online. When a business owner wants to expand their business from a physical store to online. They need an eCommerce website. The sole purpose of the e-commerce platform is to allow consumers to purchase products from the comfort of their zones.
What is the cost of launching an e-commerce website?
If you want to launch an online website, it is important to be aware about its cost. Nowadays, there are plenty of commerce platforms available on the internet to launch an online business store. These platforms have impressive features like customized page layout, payment gateways, shopping carts, product descriptions, and so forth. If you want to build an eCommerce site, you have to build a responsive, user-friendly, and highly engaging website. In this article, we will talk about the costs of setting up an e-commerce website
Goals of E-commerce website development
Before you figure out the ecommerce website development cost, it is advisable to determine your goals. As a business owner, you have to identify what you expect from the resource in which you are investing.
To begin with, answer to the following questions:
Q1 What kind of store you want?
Q2 What are your shipping options?
Q3 What is your budget for website development?
Variables that determine the cost of the eCommerce platform
Cost of the ecommerce website development depends on the several variables that we have mentioned below:
Domain name
Let's start with the simple variable i.e the domain name. You need to purchase a domain name, which is the same as your company name in most cases but it is not compulsory. When marketing a certain brand online, the domain name must be memorable, catchy, and short. Usually, The domain name can cost you something between; $5, — $15.
Hosting
The second thing you need to purchase is hosting. It is an online service that allows you to host your website on which you publish your products or services on the internet. There are three types of hosting services, shared hosting, VPS hosting, cloud hosting, and dedicated server. The cost of the hosting based on which hosting service you are availing. The costs will depend on the selected hosting packages and will start from $99 per year?.
Selecting the platform
Building a successful e-commerce web requires a stable and robust eCommerce platform. Some of the Popular Choices of eCommerce platforms are like Magento website development, Shopify, Open cart for setting up e-commerce websites and growing online businesses.
SSL certificate
How can you make your site safe and secure? Since you are dealing with online transactions, you should seek for the SSL certificate. It provides secure data transmission via encryption technologies. Many hosting service providers offer SSL certificate free. If you don't get an SSL certificate along with a hosting plan, you will have to purchase it separately. The average SSL certificate cost is $149 per year.
A Payment Gateway
Every e-commerce website contains payment gateway options. These options connect the buyers' bank account to the platform, where you need to transfer money. It's not an easy task to integrate the secured payment gateways. You have to invest a lot of time to get the payment gateways approval. In order to ensure safe and streamlined transactions, online payment gateway options like Paypal, Fastcharge.com, and Authorize are some of the popular ones available in the market. Every service provider charges in terms of % for every transaction.
Live chat
Effective e-commerce sites offer live chat options to their customers. In case, if they face any issue with the order, then can directly communicate with the live chat. The average cost of integrating the live chat is $19 per month. This messaging application instantly set up friendly terms with the customers and resolves their queries instantly.
Contact us page
Having a contact us page is essential. You have to add different modes of contact details such as contact number, email address, skype ID, customer care number, and a location and sitemap, etc.
Marketing and promotion strategy
After creating an engaging and responsive e-commerce site, you have to invest in marketing and promotion strategies. There are many ways to market your brand and gain the attention of the users. One of the ways is hiring a digital marketing company. Here a team of talented and experienced marketers will do SEO, affiliate marketing, social media marketing, Google shopping campaigns, and many more activities to improve the increase in the reach of the site.
Final e-commerce website cost estimation
Considering all- above mentioned ecommerce website development variables, there is no quick answer to calculate the exact estimation cost. However, the below-mentioned categories can give you a proper idea about the estimation.
Small web store
A small web store is determined with three components- small product range, basic interface, and small traffic. The estimated cost of the small web store is $1,000- $ 5,000
Medium web store
A medium web store is a store that has an average product catalog, eye-appealing layout and themes, medium traffic, and pro features. The estimated cost of the medium web store is $5,000- $ 30,000 and more.
Large web store
A large web store that has a huge product catalog, high traffic, advanced themes, and unique web design, multiple payment methods, order tracking, live chat, refund processing, and other advanced features. Most of the large web stores are made by using the Magento website development platform. The estimated cost of a large web store is $30,000- 1,00,000 respectively.
Final Say
Building an eCommerce site from scratch requires time, money, and of course, skills. Only an experienced team can build an e-commerce site that will help you attract a huge audience which will help you to increase sales. Our team of professional developers is willing to accept your proposal and build a suitable site that will help your business grow to the next level.